We're back with another installment of our employee spotlight series. Today we're talking with Content Strategist Dany Petraska. Dany has been with PRI for nearly two decades and adds her sense of style and wit to every project that comes across her desk. Let's learn a bit about the brains behind the content.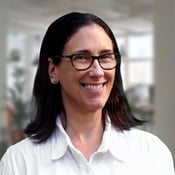 Q: Hey Dany! Let's get started. What do you do at PRI?
Dany: I'm a content strategist, SEO expert, and a team player. This means I'm in charge of all site and content audits, SEO strategy and solutions, some oversight/management, general copywriting, and *EDITING*, which I love.
Q: Can you tell us a bit about your credentials and past experience?
I have a bachelor's degree in journalism, and I happen to have built the first website for the U.S. Parachute Association (it was horrible, but it worked!) when I worked there as PR director. I was also a senior publicist at Electronic Arts and the PR director at Brøderbund. Now I try my best to stay away from PR, and love what I do now at PRI.
Q: What has been your favorite project at PRI so far?
Oh wow, I've been here for more than 15 years. A few highlights are: Developing the Amazon strategy for Aurohealth, which included updating all of their product descriptions, building their Amazon store, developing a keyword strategy, and writing and building their A+ Pages; building a 100+ slide master presentation for Bowne; and putting together a 20+ page newsletter every month for NLFA.
| | |
| --- | --- |
| | |
| Parachutist magazine, October 1999. Photographer Norman Kent took this shot of 118 women (including Dany!) setting a new world record for the largest all-female formation on September 5, 1999, over Perris Valley Skydiving in California. The record has since been beat more than once. | |
Q: Before working at PRI, what was the most unusual or interesting job you ever had?
The U.S. Parachute Association. This was interesting not only because I skydived at the time, but also because I was in charge of the press when George Bush Sr. made his skydive in 1999 in College Station, Texas. The public was not invited or notified since he wanted to do it for his own reasons, but the media (CNN, ABC, NBC, FOX …) of course showed up anyway.
I don't skydive anymore, but I made close to 2,000 jumps over 10 years.

Q: What do you like about working at PRI?
Our little community we've built. Even though the names/faces change every once in a while, it always feels warm and fuzzy to me. I also love working remotely. While I wish I could see everyone more often, remote work is ideal for me and my personality. Fun fact: I was PRI's first remote worker!
Q: What's your favorite way to keep your skills sharpened?
Webinars, lots of reading, and always being curious.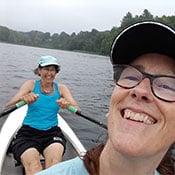 Q: What do you enjoy doing when you are not working?
Reading, rowing, learning and creating new things like homemade soap and hypertufa pots, doing puzzles, hanging out with my awesome dog Stella (and working on her new click training), and watching motocross (which my husband got me into, and now I'm hooked).
Q: What motivates you to wake up and go to work?
The clients. I work for them.
Q: What is your hidden talent?
Oh gee, so here goes. I'm going to tell you a secret, one that I've wanted to tell everyone for a long time, despite the fact that there are many out there who think it's a very bad idea to reveal, especially in the workplace. I was diagnosed with ADHD seven years ago, though I've had it my entire life. And while it can be difficult to handle at times, the positives (if used correctly) are things like creativity, an extreme attention to detail, seeing things others don't, and a love of learning. (Here's a site I happened to find today, which appears to be geared toward ADD/ADHD in the workplace. And here's another more general take on "hidden talents.") The difficulties of ADHD, for me, can include impulsivity and a tendency to interrupt people when they're talking. (I don't mean to — I just randomly remember things and get excited and know I won't remember them 30 seconds later!).
Q: Where are you from?
I was born in Victoria, Texas. Then I lived in Dallas, San Antonio, St. Louis, Omaha, Olathe (Kansas), Fresno (California), San Francisco, Sacramento, Manville (New Jersey), Derry (New Hampshire), and Vermont, where I live now.
Q: If you could switch your job with anyone else within PRI, whose job would you want?
Kevin or Gayathri. I like solving things.
Q: Favorite quote?
"The past has no power over the present moment."
Q: Favorite movie?
To Kill a Mockingbird
Q: Favorite TV show?
Ever? The Wire, Dexter, or Lost. Currently? The Handmaid's Tale.
Q: Favorite food?
Baked sweets — so much so that I had to give them up!
Q: Favorite podcast?
DP: Serial.
Q: Favorite book?
I have too many! And every new one replaces the one before. A couple of favorites are Gone With the Wind and To Kill a Mockingbird.
Q: Now for our favorite question. Would you rather fight one horse-sized duck or 100 duck-sized horses?
One horse-sized duck.
Q: So close to the end. Let's do some rapid-fire word association! What's the first word that comes to mind when I say:
Twitter? Blue.
Facebook? Hate it.
Snapchat? Huh?
SEO? Hard.
Google? Giant?
Apple? China.
Android? Friendly.
Responsive Design? Elena.
User Experience? Important.
Agile Development? More my style.
Remote Work? Awesome.
Our president/CEO Chintan? Busy.
Q: Okay, last question. Let's get inspirational. What's the best piece of advice you've ever been given?
"You are not your thoughts."
LEARN MORE
Read all of our Employee Spotlights