The basic concept of a taxonomy is borrowed from the sciences: naming, describing, and classifying items. When it comes to the digital space, taxonomy means the organization of the content on your site.
There are many different ways to structure your site's taxonomy, but we'll keep it simple and user-focused with hierarchical taxonomy. Hierarchical taxonomy is the concept of identifying your content, and categories and tags are tools that you'll use to label what your content is.
Why bother with a useful and purposeful taxonomy? The most important reason to create tags for your content is to make it simple and intuitive for your user to find your content, navigate through your content and find any relevant, related content.
It's estimated that 65% of content in B2B marketing gets unused, and 25% of that unusable content is connected to findability issues.
Categories Versus Tags
Categories are hierarchical, the big ideas of your content, while tags are the more specific details of your posts and articles.
One analogy that has helped us explain categories versus tags is that categories are the table of contents, tags are the index. They both help users navigate your content, but they do so in different ways.
To be more specific, here's an example: Categories on a museum blog might be along the lines of Artists, Exhibitions, Events. Then tags may be types of artists, exhibitions, or events (painter, live music, opening), and specific artists, exhibitions, and events.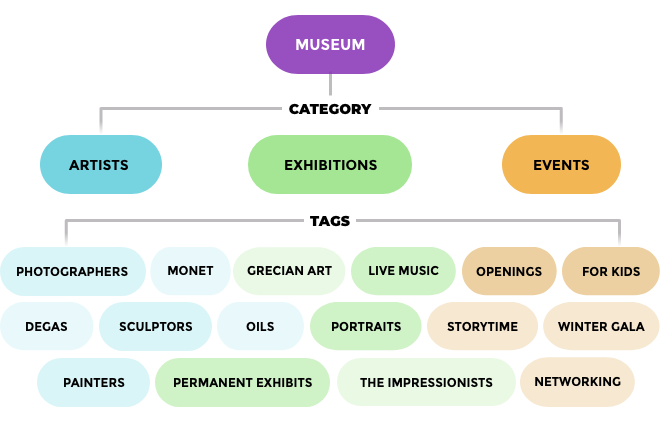 What's the advantage of using both? Mostly, it creates a better user experience and makes your content easier to navigate.
Start with Why
When creating tags, always start with why. Explaining the importance of tagging structure helps your content creators understand why you're implementing change.
The three areas that benefit from having an organized taxonomy structure are realizing what you already publish, findability (SEO) and usability.
What You Already Publish
What are you already publishing on your site? This could be blogs, articles, case studies, etc. When it comes to creating tags for your content, it helps to define exactly what categories you might include based on your previous content.
Maybe the idea of a content audit makes you cringe, but don't worry, an audit doesn't have to take years and years. By shaping a content audit around existing *types* of content, you can begin to see what categories of content you're already publishing in large amounts without having specific tags for that content. Create those tags first!
Defining the main categories of your content also helps you to create a content calendar. For example, if we post about Development one week, we try to post about Strategy or Design after so that our blog is well-rounded and serving all of our various readers. Your main categories will be defined by what your categories are.
Findability & SEO
Findability doesn't necessarily mean SEO, but SEO is a part of findability. Findability also helps users establish context and the purpose of a page, enhances browsability of content and provides the next place for users to "go" from your post or article. A well established taxonomy immediately introduces readers to the main topic of your post and gives them a built-in "read more" link just from the tag or category.
SEO doesn't have to be a strange, analytical, mysterious subject. Creating categories not only strengthens the SEO on your page, but it helps users find what they're looking for straight from the search engine's page. Remember, titles and metadata also matter when it comes to findability and SEO!
For example, if a user searches "Best running trails in New Jersey" and you have "New Jersey running trails" as a category or tag, you can link your user to an entire page of your content on the subject, instead of only finding one article.
Specific categories also help you rank higher for less popular SEO keywords, because search engines find it easier to crawl your site when there's a well-established taxonomy in place. The theory behind this is that the more tags you create about one category, the easier it will be for search engine spiders to crawl your site.
Usability
Usability is key when it comes to your site, and content tagging is a major component of making your site easy to navigate. Proper categorization of content is key to helping your users get exactly what they're looking for.
Content tagging can also be used to help segment your users. It's useful to have tags specific to one demographic you are serving, so that users of that demographic can easily find content relevant to them. For example, a university might have tags specific to students, staff, parents, alumni, donors and prospective students. Each content page can then be customized to better serve those demographics, with appropriate email opt-in forms, donation forms, etc.
Selecting The Right Categories and Tags
Your taxonomy should align with your organization's priorities. What terms and structure you choose should help your organization's goals. If your organization's goals are to promote maternal health, ensure all of your categories and tags are in line with that. Your tags may be loosely related (for example, healthcare) or directly related (for example, prematurity). If your goal is to draw more attention to a specific project, that project probably needs a tag!
Generic tags that are more loosely related to your content will most likely have many more articles tagged, but fair warning: do not use generic tags for all of your content. If your user clicks on a tag and sees basically all of your content under that one tag, that is not working to promote findability or usability on your site.
Because tagging is such a small step of the content creation process, it's common that organizations overlook the importance of consciously-created taxonomy systems. However, if you leverage your content's taxonomy well, it will become an invaluable asset to your website in many ways.