It's time to meet our team! Our employee spotlight series highlights the individuals whose expertise serve as the foundation for PRI's services.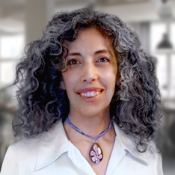 This week we sat down with our art director, Élena Nazzaro, who has been a foundational part of PRI since she joined our team 25 years ago. Her excellent taste is matched only by her wit and loyalty, and we're excited to showcase the bit of sunshine she brings to all of our lives.
Q: Hi Élena! Let's start with the basics. What do you do at PRI?
Élena: Officially, I oversee all the work that comes out of PRI from a design perspective. I enjoy taking the time to really get inside a project and understand the needs of the client and their audience, and then being able to craft something that fits them well and meets their goals. Unofficially ... I've done a little bit of everything as it's been needed. We all help each other.
Q: Tell me a little bit about your credentials and past experiences before PRI.
I have a BFA with an illustration specialization. I was fortunate enough to study at a time when design was a very hands-on affair (paste-up, speccing type, and everything old-school) — but I also had early access to computers, so I could use the best of both. I like to try everything, so I've designed websites, shirts, booth displays, software interfaces, magazines, book covers, and published illustrations. Also, being very detail-oriented and precise helps too when you need to explain your specs or points to others. Ask anyone at PRI how I feel about using correct quotation marks!
Q: What has been your favorite project at PRI so far?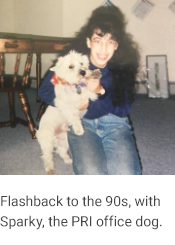 My favorite projects are when I feel like I really helped bring the client's message to life, especially if it's for a client where we're helping put some good back out into the world, like MUTTS, Share & Care, the National Fragile X Foundation, and March of Dimes.
Q: What is your proudest moment at PRI?
I don't know if I have just one. It's more of the fact that I've worked at PRI longer than I haven't! I've known some of our clients since the beginning, and those relationships are still strong. I'm proud that PRI is a family to me and has been there for pretty much every major event in my life for the past 25 years (and counting).
Q: What's the most unusual or interesting job you've ever had?
I've had some unusual gigs while working … for years I sang in an a cappella group and did radio shows, backup for recordings, and got to travel a bunch. PRI founder Rich Mansfield, who hired me right out of college, loved it so much that he even got us to perform at his sons' elementary school. We had to change some lyrics but it all worked out.
Q: What professional accomplishment are you most proud of?
I had an illustrated column at Craft: Magazine for a while until it merged with Make:. That was fun because the column was called "The Art of Cooking" and consisted of illustrated recipes that, of course, had to be tested thoroughly!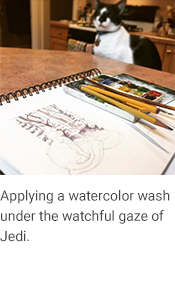 Q: What's your favorite way to keep your skills sharpened?
I subscribe to many design and UX/UI newsfeeds to stay current, but I really enjoy getting away from the computer and the almighty "undo" and working in my sketchbook. Drawing and painting gives me a chance to try something new and work through mistakes hands-on, without an easy fix.
Q: What do you enjoy doing when you're not working?
Spending time with my wonderful family and our rescue kitty, leading my Girl Scout troop, crocheting, and singing with the band at my church. And reading. Always reading.
Q: What motivates you to wake up and go to work?
I like to create things, and I love the people I get to work with and create things with each day. Also, health insurance is nice.
Q: Favorite movie?
The Princess Bride.
Q: Favorite band/musician?
I've been a huge Beatles fan ever since the age of 14 and never grew out of it.


Q: Favorite book?
The Last Unicorn by Peter S. Beagle.
Q: Alright, let's get weird. Would you rather fight one horse-sized duck or 100 duck-sized horses?
I was going to say 100 duck-sized horses, but my family has convinced me that one horse-sized duck would be easier to incapacitate. Plus, if you did it right, you could ride it.
Q: You've almost made it to the end! It's time for rapid-fire word association. What's the first word that comes to mind when I say:
Twitter? Dad jokes.
Facebook? Time suck.
SEO? Important.
Responsive Design? Necessary.
User Experience? Interesting.
Agile Development? Circular.
PRI President/CEO Chintan? Smiles.
Q: One last inspiring question to wrap this up. What's the best piece of advice you've ever been given?
"Love one another." (John 13:34) Putting out more love into the world is my modus operandi. In pretty much every situation, you can try to choose the path of kindness.
LEARN MORE
More Employee Spotlights
Élena is our art director, so you might want to check out our Work!