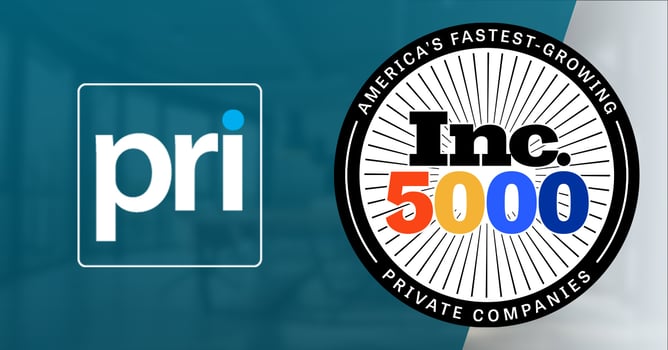 When you're one of America's fastest-growing companies, you let the world know! PRI is proud to announce that we made the 2021 Inc. 5000 list!
The Inc. 5000, which ranks privately held U.S. companies based on revenue growth over a three-year period, is a prestigious list that provides readers a deeper understanding of the current entrepreneurial landscape and showcases future household names. Past honorees include Intuit, Under Armour, Microsoft, and Patagonia. We're committed to making this our first of many inclusions on the Inc. 5000, and we owe this win to the dedicated work of our incredible team of experts. We have seen 85% growth over the past three years, and we could not have achieved this during a global pandemic without their innovation, dedication, and desire to create a better world.
Entering the Inc. 5000 list at this time showcases our team's resiliency and flexibility, given 2020's unprecedented challenges. Among the 5,000 companies featured in this year's ist, the average median three-year growth rate soared to 543 percent, and median revenue reached $11.1 million. As a digital consultancy focused on supporting mission-driven organizations, we are proud to be a part of a collective that has added more than 610,000 jobs to the nation over the past three years.
"The 2021 Inc. 5000 list feels like one of the most important rosters of companies ever compiled," says Scott Omelianuk, editor-in-chief of Inc. "Building one of the fastest-growing companies in America in any year is a remarkable achievement. Building one in the crisis we've lived through is just plain amazing. This kind of accomplishment comes with hard work, smart pivots, great leadership, and the help of a whole lot of people."
We asked our CEO, Chintan Parikh, what he thinks sets PRI apart from the other companies in our industry. In short? Our clients and our team. "We put our values at the center of all we do, and we align with organizations and people who do the same."
We have made it our mission to partner with those working to create a positive impact on the communities they serve. We cannot wait to see where this mission takes us in the future.
To learn more, explore our company profile at Inc.com.