In early 2021 we were approached by our friends and partners at the Columbia Law Review, a nonprofit organization and world-renowned publication of legal scholarship, to assist in creating the digital version of a special volume of the Review — an in memoriam tribute to the late Justice Ruth Bader Ginsburg.
We were honored to assist in preserving and sharing Justice Ginsburg's incredible legacy through this issue, which included contributions from Hillary Rodham Clinton, Chief Justice John G. Roberts, Jr., ACLU Women's Rights Project co-author Brenda Feigen, and many others.
A Multimedia Celebration of Justice Ginsburg's Life and Legacy
We were immediately inspired by the Review team's vision for this project: a celebration of Justice Ginsburg's life and legacy, conveyed through an interactive and multimedia reader experience.
From a content perspective, this volume included photos, pull quotes, archival documents, a timeline of the Justice's accomplishments, and — of course — the issue articles themselves, penned by a host of distinguished individuals.
For functionality and visual appeal, we at PRI were called upon to create a digital, mobile-first storytelling experience incorporating advanced animations, an intuitive user flow, and consistency across multiple devices. It was important not only that our design presented the content in an interesting and inviting way, but also that it was simple for any user, regardless of technical proficiency, to read and navigate.
Putting design thinking principles into action, our team responded to these needs by creating a landing page centered around a vertical timeline, with tiled content blocks featuring article excerpts and links to the full special issue pages.
We also incorporated responsive sliders within the timeline, allowing mobile users to swipe through content in "busier" sections of the page. For example, the section focused on the year 2018 (the 25th anniversary of Justice Ginsburg's investiture to the U.S. Supreme Court) includes text, imagery, a video, and "swipeable" articles from both Robert A. Katzmann and Alexandra A.E. Shapiro.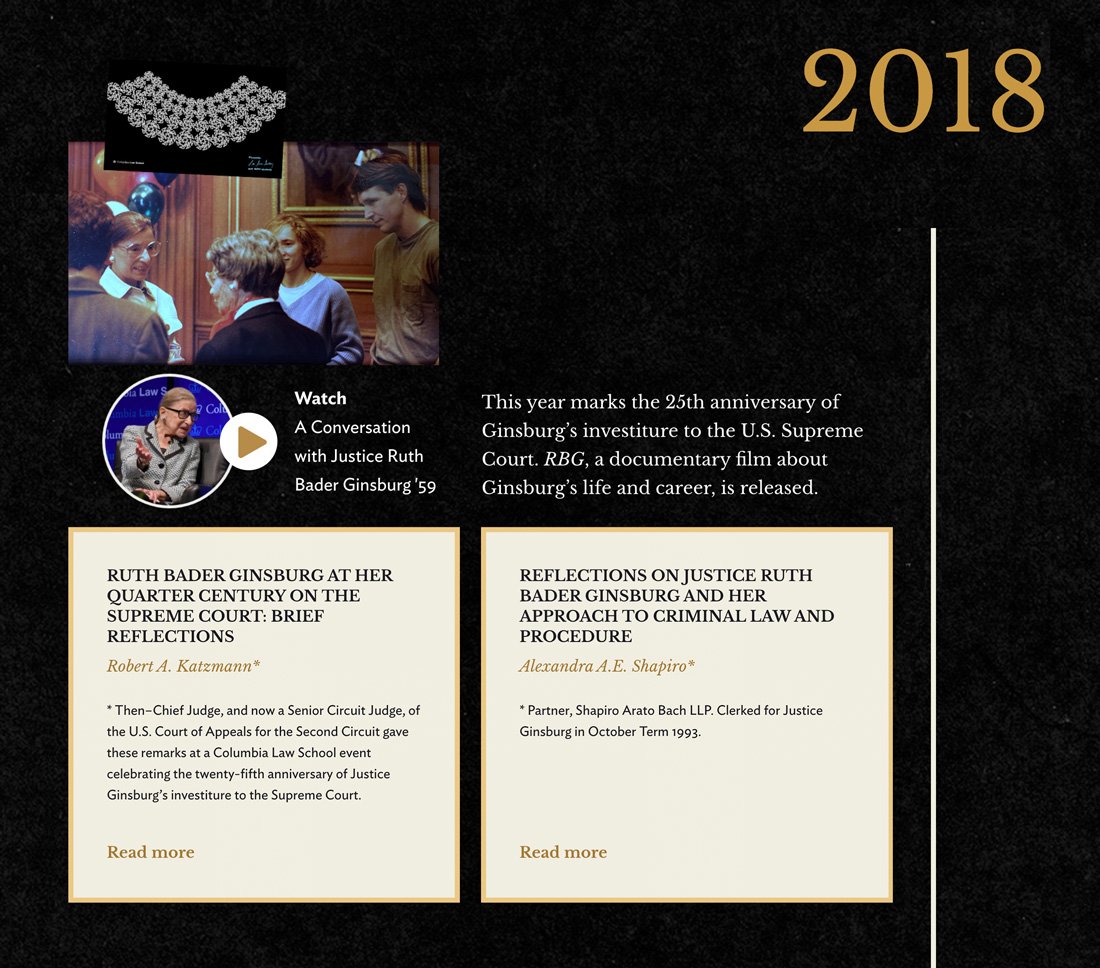 Choosing a timeless, user-accessible color palette
We understood the importance of crafting a visual aesthetic that would set apart the issue as a distinct volume while also complementing the Review's archives and existing styles. For the palette we selected gold, white, black, and navy blue. This combination offers a sense of nobility and timelessness while also meeting WGAC AA requirements for ADA compliance (ensuring proper color contrast for more inclusive visibility).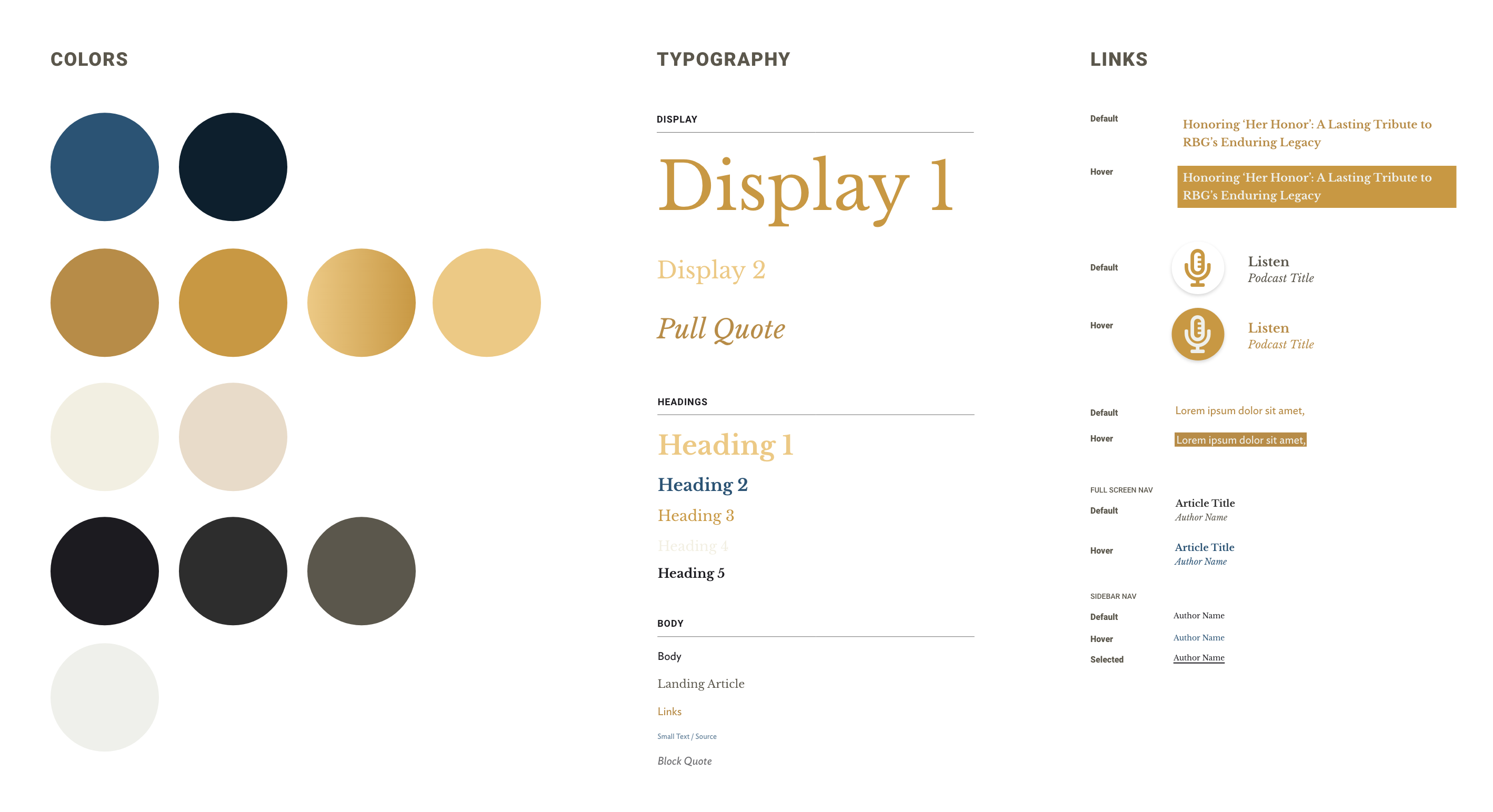 Developing an immersive storytelling experience
Effective storytelling can educate, rouse emotion, and inspire action. We aimed to celebrate Justice Ginsburg's legacy by developing an immersive landing page that would encourage readers to not only … well, read — but to explore. We utilized tasteful Javascript animations to enrich the user experience and create an inviting, three-dimensional scrolling effect.
Ensuring cohesion and ease of use across devices
To ensure cross-device compatibility, we worked with a mobile-first mentality — starting with mockups that prioritized simplicity, then iterating with regular feedback from the client. In addition to our responsive sliders, we also created a side navigation menu which allows users to quickly browse or locate individual articles without scrolling through the full landing page.
Empowering business users with a customizable template
With every project, we hope to empower our clients with tools to scale and expand upon their vision, even after the initial "product" is complete. With that in mind, we built this page with customizable elements, enabling the Review staff and editorial team to make adjustments or add new content in the future, if they wish to do so.
Post-Launch: A Positive Reception
The final product, Vol. 121: RBG, was met with positive reception from an array of notable figures across social media.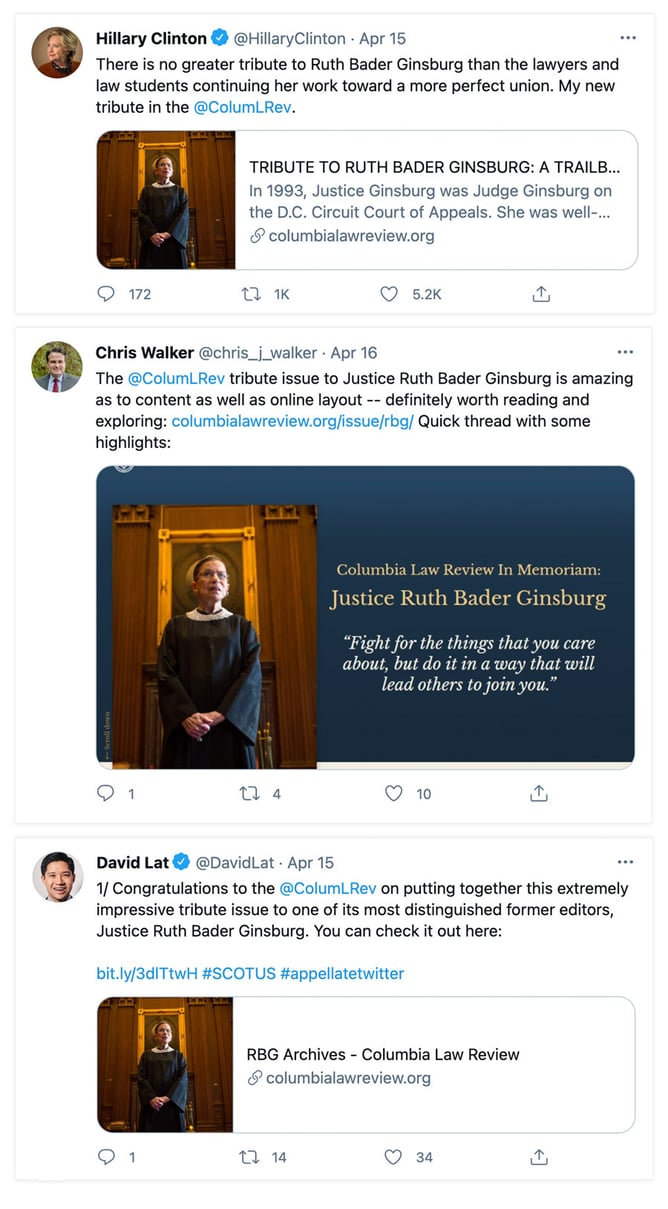 To play a role in honoring Justice Ginsburg meant a great deal to the team at PRI, and we are appreciative to our partners at the Columbia Law Review for the opportunity to be involved in such a meaningful and creative project.
"Thank you so much for your incredible work on this. We've gotten overwhelmingly positive and congratulatory messages on how lovely, interactive, bold, inviting, and thoughtfully laid out the site is."

— Oluwatumise Asebiomo
2021 Editor in Chief, Columbia Law Review