MUTTS.com is the official online home for Patrick McDonnell's acclaimed MUTTS comic strip, which began in 1994 and today reaches millions of readers worldwide.
In 2003 PRI joined forces with MUTTS to introduce its beloved cast of characters to an online audience, and in the nearly two decades since, this animal-focused brand has cultivated a digital audience of nearly half a million followers and expanded to include a robust ecommerce site which gives back to organizations that help animals and the environment.
We collaborate closely with MUTTS on everything from product design to marketing campaigns (and so much more!), and we're happy to report that MUTTS has seen significant growth over the past few years. To meet the evolving needs of readers and customers (and to position the company for future growth), we embarked on a project to migrate the website from WordPress to a new platform.
During our discovery process, we established the following goals: to improve website performance, expand sales channels and marketing integrations, enhance the customer shopping experience, and simplify content management workflows.
After evaluating MUTTS' technical requirements and business goals, we recommended Shopify Plus, which offered many desirable out-of-the-box capabilities and also allowed our team to make custom expansions where necessary.
Additionally, we crafted a fresh look and feel for the site, featuring an eco-inspired color palette and revised messaging to more effectively convey MUTTS' commitment to helping animals and the earth.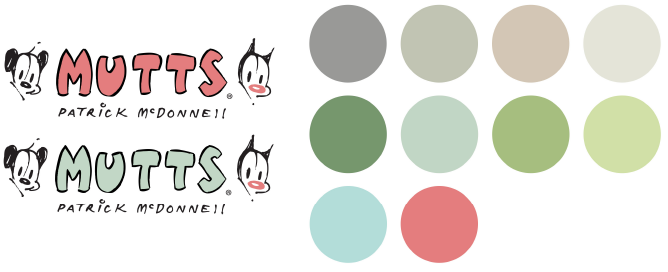 We selected a combination of subtle, earth-inspired tones and created an alternative version of MUTTS' classic coral logo to emphasize the brand's nature-centric focus.
Strategic Messaging and Information Architecture
The MUTTS site receives approximately 3,000 daily visitors, who come to the site not only to make purchases but also to browse comic strips, blogs, and other content. To serve multiple audience segments, we created a double menu for easy browsing, with direct links to MUTTS' mission and brand story as well as to top shop categories. We also collaborated with the MUTTS merch team to improve product tagging and product categories, resulting in a more intuitive browsing experience for customers.
Product Migration and Customization
At the MUTTS Shop, customers can browse merchandise ranging from home goods and apparel to books, greeting cards, and more. However, the store's key offering is its extensive art selection, including nearly three decades' worth of daily comic strips — all available printed on demand, with optional add-ons such as signatures, framing, matting, and canvas printing.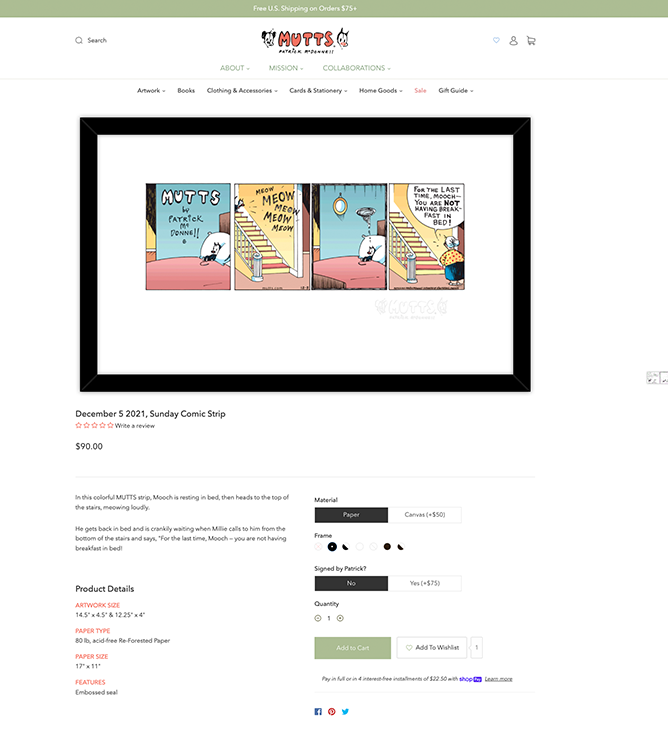 The custom comic strip product pages offer live previews of various matting and framing options.
Our engineering experts crafted special product pages for these comic strips (and for other unique products) and incorporated customizations for product add-ons and bulk discounts for select items.
Additionally, we built in features to enable and streamline product personalization, which is a current offering that the MUTTS team intends to expand upon in 2022.
Empowering Content Creators
MUTTS needed a solution that would empower content creators to make site updates on their own, and reduce the dependency on technical team members.
For instance, copywriters and designers are now able to quickly update the website on the fly to coordinate with sales and promotions, and to showcase featured products in a variety of ways. Examples include updating a global announcement bar with marketing offers, swapping out homepage sliders and CTAs, and rearranging homepage content blocks. Previously, all of these activities required technical support.
In addition, content creators have the ability to create new product collections and gift guides, make changes to navigation menus, and create new landing pages with ease.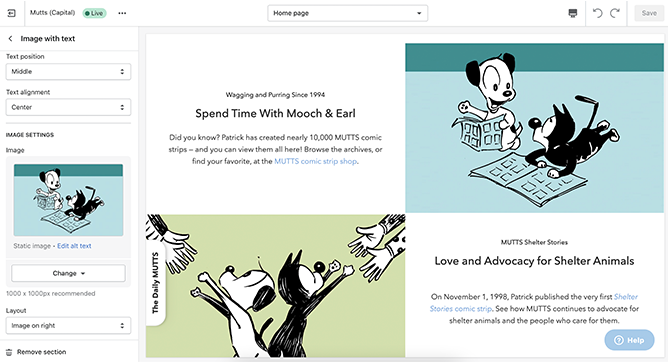 The Shopify dashboard empowers non-technical team members with simple, drag-and-drop content blocks.
Marketing and Other Third-Party Integrations
It was important for us to maintain existing integrations with standard ecommerce tools like ShipStation, MailChimp, and Zendesk, but we also needed to empower MUTTS with a wider range of ecommerce marketing options. We connected the website with additional sales channels such as Pinterest, Amazon, Facebook, and Google, and also added integrations with tools such as Adroll (for web and social media retargeting) and Growave (for wish lists and reviews).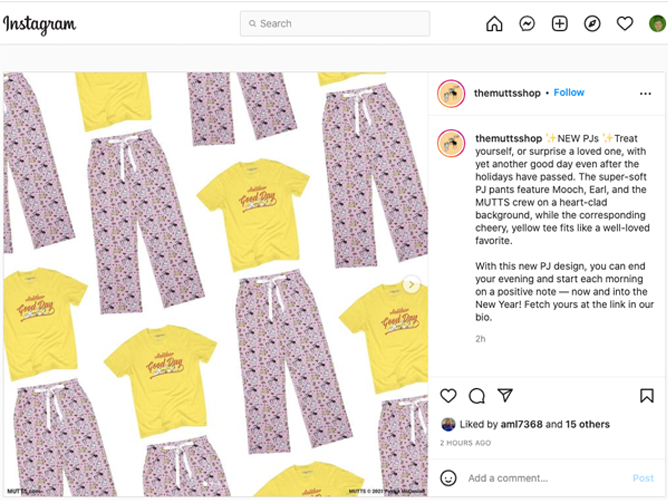 By leveraging new sales channel integrations, Team MUTTS can now reach an even wider audience through Instagram and Facebook Shopping.
Improving Site Performance
PRI completed this migration in October 2021, allowing time for QA and UAT before MUTTS entered its peak sales season. Since then, the website's performance score has improved by 29%, and its structure score increased by 25%.
This migration has not only reduced effort for MUTTS' technical and creative teams, but also provided a more intuitive and engaging shopping experience for new and longtime lovers of the brand. Most importantly, it empowers Team MUTTS to focus on what's most important to them — helping animals, giving back to the earth, and inspiring compassion through the heartwarming humor of the MUTTS comic strip.
"PRI has been an invaluable partner to MUTTS for nearly 20 years, and 2021 was no exception. PRI took on the challenge of migrating our site to a new platform, seamlessly creating a new ecommerce store on time and within budget. The results are, as expected, stellar. We couldn't be happier."

— KAREN O'CONNELL
Manager, MUTTS Comics